New Patients
Welcome to New Horizons Dental Care — the dental practice in Lenexa, Kansas that is 100% focused on your smile!
Whether you are new to the area seeking a new dentist, or haven't been to the dentist in years, we are dedicated to providing you with the most enjoyable dental experience of your life. There are many benefits to making our office your new dental home:
Dr. Viloria and his staff welcome you to New Horizons Dental Care of Lenexa.
Request an Appointment
The Dentist
Dr. Robert P. Viloria is a highly qualified dentist who has trained for extra years in order to offer his patients the absolute latest in dental techniques. His chairside manner puts men, women, and children at ease, while his expertise covers dental care and treatment for every member of the family. Find out more about Dr. Viloria here.
Our Location
Our office is conveniently located on 101st Street just north of Hwy 10. Click here for an online map and driving directions.
Convenient Scheduling
Our office hours include early morning and evening hours to make scheduling and keeping your appointments easy. Our current hours are:
Monday: 9am-5pm
Tuesday & Wednesday: 7am-3pm
Thursday: 9am-5pm
Friday: 8:30-12:30 Business Office only
Saturday & Sunday: Closed
When you call, we will schedule your appointment as promptly as possible. If you are experiencing pain or have an emergency situation, every attempt will be made to see you the same day.
We do our best to schedule adequate time for each appointment, so Dr. Viloria can spend plenty of time with each patient and our schedule stays on track throughout the day, so your wait time should be minimal, if any.
However, since Dr. Viloria provides many types of dental services, circumstances could arise during a treatment that would lengthen the time allocated for a procedure. Emergency cases can also arise and cause delays. These cases are fortunately rare, but they do occur occasionally!
We appreciate your understanding and patience should an appointment preceding your own run longer than anticipated. Please know that Dr. Viloria will extend the same care and attention to you during your own appointment.
Please call us at 913-390-5110 with any questions or to schedule an appointment.
Insurance
At New Horizons Dental Care of Lenexa, we make every effort to provide you with the finest care and the most convenient financial options. Our team is committed to working hand-in-hand with you to maximize your insurance reimbursement for covered procedures.
We are proud to accept most dental insurance plans and are currently an in-network provider for the following:
Aetna
Ameritas
Blue Cross/Blue Shield of Kansas & FEP Blue Dental
Cigna
Delta Dental Premier
Delta Dental PPO
GEHA
Guardian
MetLife
UHC
United Concordia
If you do not see your insurance plan listed, don't worry — in most cases, we can accept most plans and bill your insurance company directly. Please call us to schedule an appointment and let us help answer your insurance questions.
Please bring all pertinent insurance information with you to each appointment so that we can expedite reimbursement.
If you have any problems with or questions about your insurance coverage and how it affects your bill, please ask our team at 913-390-5110.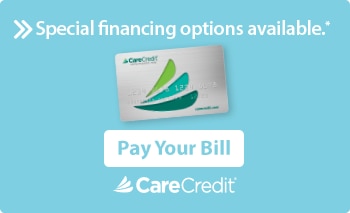 Financing Options
We accept multiple forms of payment for your convenience, including:
Visa
MasterCard
American Express
Discover Card
Cash
Checks
We also offer access to 3rd party financing which is available through Care Credit.
Payment is due at the time service is rendered, unless other arrangements have been made in advance.
Please remember you are fully responsible for all fees charged by our office regardless of your insurance coverage.
We will send you a monthly statement. Most insurance companies will respond within four to six weeks. Please call our office if your statement does not reflect your insurance payment within that time frame.
Any remaining balance after your insurance has paid the covered amount will be your responsibility, and prompt remittance is appreciated. We can make arrangements for a monthly payment plan, but this must be done prior to the actual procedure, so if you think you will need a plan please ask about this option when scheduling your procedure.
If you have questions regarding your account, please contact us at 913-390-5110.
Downloadable Forms
You can avoid the need to arrive extra early for your initial appointment by printing and filling out paperwork in advance. Having these forms filled out completely will make your first visit go even more smoothly.
If you need help filling out the forms, arrive 15-20 minutes early for your appointment and a member of our team will be happy to assist you!
You should also bring with you your insurance information, any past dental records and / or x-rays, any pertinent medical records, and a list of any medications you are taking (including prescriptions, over the counter medications, and herbal supplements or vitamins.)
Let our team know specifically if you are on heart medication, aspirin, or anticoagulants, and mention any conditions such as diabetes, high blood pressure, artificial heart valves or joints, a history of rheumatic fever, or any other serious medical condition.
Your First Visit
Your initial visit in our office will take approximately 90 minutes. Dr. Viloria uses part of this time to familiarize himself with any past dental or medical records. Our team will take any additional required x-rays, and Dr. Viloria will complete a thorough examination.
Treatment options will be presented and discussed with you, and a decision made about what procedures may be necessary to maintain or restore dental health. In many cases, the treatment can then be carried out or at least started in our office at the same appointment.
In complex cases or when there is medical history that requires special planning and treatment, an evaluation will be performed and a second appointment set up for the actual beginning of treatment.
IMPORTANT: All patients under the age of 18 must be accompanied by a parent or guardian.
Special Offers
We routinely offer specials for new and existing patients to encourage better dental care and affordable options. Our current specials are listed below.